A FIELD GUIDE TO THE HEART: POEMS OF LOVE, COMFORT & HOPE BOOK LAUNCH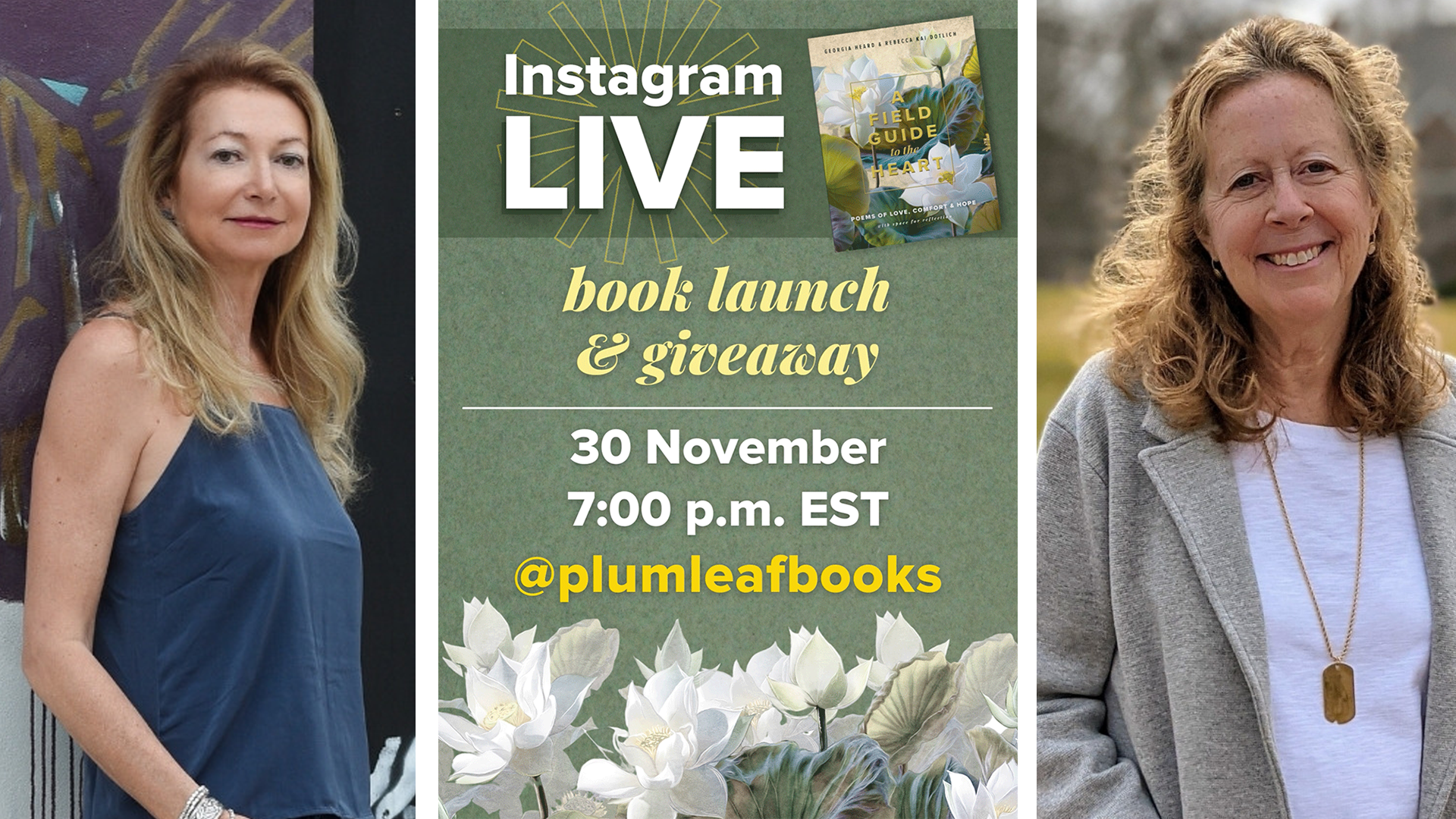 By Angela Paletta
Plumleaf Press @plumleafbooks hosted an Instagram Live event on 30 November 2021 to celebrate the launch of A Field Guide to the Heart: Poems of Love, Comfort & Hope. The book is part poetry and part journal and was written by Georgia Heard and Rebecca Kai Dotlich, who are poets, authors, and friends.
Georgia and Rebecca discussed their inspiration behind their new book and how the pandemic played a key part in it. Georgia pointed out how isolating and silent the lockdown felt, which inspired her and Rebecca to email back and forth with writing prompts. This helped Georgia feel that she had her voice back and was not so alone. Rebecca revealed how Georgia had encouraged her to write poems about how she felt not being able to see her parents during lockdown. The exchange of thoughts and emotions between the two friends provided both with a feeling of companionship and inspired their poems of love, comfort, and hope during a time of uncertainty and isolation.
The authors discussed how it was important to have a reflection section in the book because poems and images can work to inspire anyone to write. They wanted their readers to have a place to write right next to the poem when inspiration from the poem sparked. Rebecca read a poem by Georgia, "What Will Survive Us," and Georgia read a poem by Rebecca, "The Morning of My Choosing." These poems were inspired by simple but meaningful things in everyday life. After the reading, Georgia and Rebecca discussed how these poems portrayed the kind of reflection that they hope their readers are inspired to write. Georgia and Rebecca provided helpful tips to those who feel like the book is too beautiful to write in. Georgia stated that the reader's words are just as beautiful as the book; Rebecca reminded the reader they need to give themselves permission to do so, and then it becomes okay to write in it.
Throughout the hour-long Instagram Live Field Guide to the Heart launch, Georgia and Rebecca took turns readings each other's poems from the book, answering questions, and providing helpful tips on writing poetry and journaling. Rebecca's journaling tip was that entries do not have to be written all at once. The writing can be done in stages and writers should include the mundane and the specific details because these details can bring back memories and feelings when reading the piece over later. Georgia's tip was to write what is in your heart and your mind and accept it fully. Georgia feels that once you stop being so hard on yourself and your writing, then your writing will be at its truest form. Both Georgia and Rebecca hope this book will bring the reader a sense of comfort, inspiration, and friendship.
At the end of the event, the three winners of the book giveaway contest that ran for a week leading up to the Instagram Live event were announced. The first two winners won their own copy of A Field Guide to the Heart, and the grand prize winner won a copy of A Field Guide to the Heart and a copy of The Woman in this Poem, an anthology of poems edited by Georgia Heard.
To purchase your own copy of A Field Guide to the Heart or The Woman in this Poem, visit plumleafpress.com, Indigo, or select indie bookstores today!
Watch the video below.